​​​​​​​WE ARE OPEN
(By appointment only. Call us at 619-465-4900 for more information).
On Thursday, March 19, 2020, Gov. Newsom declared a Stay-at-Home order for California. As a federally defined essential business, we are open. However, we are also a small business, and as a small business, our ability to remain open is reliant on our ability to keep our staff (and you) healthy and safe. So for those reasons, here are a few guidelines:
We are by appointment only. No walk-ins, please. If you have an emergency, please contact one of our local emergency veterinary clinics.

If you are currently experiencing any cold or flu symptoms, like sneezing, coughing, body aches, fever, etc, please stay at home and call us for more direction. Additionally, if you (or a family member) have been exposed to anyone showing symptoms, please notify our staff at scheduling, and before arriving, so we can make any required adjustments.

In order to maintain Social Distancing, please minimize the number of people coming to the clinic with your pet. Exam rooms are similar in size to a small bedroom, when you add your pet, the doctor, and +/- a staff person - it is safest if we can minimize the number of clients to 1 person per pet.

For your own peace of mind, our hospital is cleaned and sanitized with medical-grade cleaners repeatedly and thoroughly through-out the day. Furthermore, hand-sanitizer and handwashing sinks are available.

Drive-up service is available for appointments and purchases (medications/food) for established clients. This means you will not need to enter our facility at all. Please give the office a call for more details.

Lastly, we are closely monitoring any new developments from the CDC, AVMA, local, state, and national governments regarding the coronavirus (COVID-19). This includes working diligently to conserve personal protective equipment (PPE) to help with demand on the human side. Please be aware that during this tough time, medications and medical supplies may be limited or rationed; and these decisions may be beyond our control.
In the end, our goal always has been and will continue to be, to keep our patients, clients, and staff safe. As a country, we will get through this. In the meantime, we all have a part to play in preventing the spread of COVID-19, and we appreciate your assistance during this time.

Thank you and stay safe & healthy,
Jewel Reese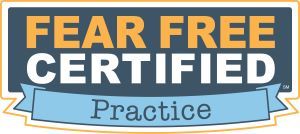 Services
We strive to provide complete care for our patients. Learn more about all the services we provide.

Read More
Testimonials
We love our clients and our reviews! Please click to read more.

Read More