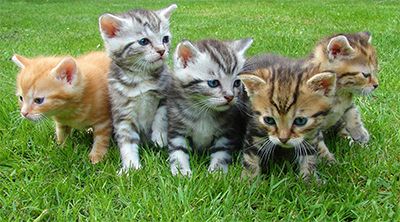 The Fear Free Initiative is a movement designed by veterinary behaviorists to reduce stress and anxiety in pets when they visit the animal hospital.

Many of us don't like going to the doctor or dentist, imagine if your doctor or dentist didn't even speak your language! Or imagine if the minute you walked into your doctor's office, you heard a deep booming voice scream, "SIT!" Pretty scary. Not sure I would want to go either.

So, the goal of the Fear Free Movement is to redesign the veterinary hospital and veterinary techniques in order to minimize stress. Dr. Reese and all the veterinary staff believe in the Fear Free initiative so strongly that we closed our doors for two days, so everyone could be trained on the techniques. We are proud to announce that everyone at Eastridge Animal Hospital, The Little Cat Clinic, and Healthy Paw Rehab were certified within the first month of the Fear Free Certification launch. We are the first veterinary clinic in San Diego County to have our whole staff certified, and possibly the first in the state!

So what are the keys to Fear Free. Quite simply, we want to reduce fear, anxiety, stress, and pain. Some of these techniques are quite small and simple: offering treats, having warm beds and towels in all the rooms, the use of yoga mats for older animals, having pheromone* diffusers and sprays, or even the way we hold, carry or handle your pet while providing them with the best medical care.

Other items were much more complex to initiate: such as the opening of the Cat Clinic (to separate cats from dogs), or the reconstruction of the exam rooms (to open up the room, so our pets don't feel so cornered).

Of course, Fear Free isn't an "ends" in itself. It is an ever evolving movement. There will always be areas to advance and improve. So watch us as we grow, and as always, if there is anything we can do to help reduce the fear or anxiety in your pet, please let us know.


*Pheromones are scents that are natural to the animal. For example, the scent the mother would makes when nursing.