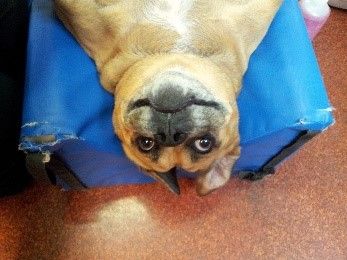 Wiggles and Purrs
Oct, 2016
Fright Night (and scaredy cats) are for Halloween - not Veterinary Visits!
So what is this Fear FreeSM stuff about anyway?
You may have noticed in the hospital, or on our online sites, posters and signs referencing Fear Free. So what is Fear Free?
Fear Free is a training and certification program that helps veterinarians modify their procedures, handling, and facilities to help pets feel safe and comfortable while receiving the medical care they need.
At some point in our life, I'm sure we have all felt a little anxiety when going to our own dentist or doctor….well imagine if your dentist or doctor not only did not speak your language, but the minute you walked in, he yelled at you (in a deep booming voice), "Sit!" Then without saying a word, he poked you, pulled your ears, opened your mouth, stared into your eyes, and felt all parts of your body… and then when you finally thought it was all over…he gave you a bunch of injections! Not exactly an experience you would get excited about.
At Eastridge, we have always been aware of this problem, and we've always tried to find ways to minimize your pet's stress during their visit – whether it is gentle handling, lowering ourselves to their level, or offering treats – Fear Free is just an expansion of how we have always practiced. It just gives our techniques a formal name and provides us with additional resources to expand our skills and facilities.
In fact, we believe in the program so much that not only did every employee at Eastridge, The Little Cat Clinic, and Healthy Paw Rehab get trained and certified in Fear Free methods and techniques, but we were THE FIRST CLINIC IN SAN DIEGO COUNTY (and possibly the first in the state) to have everyone certified.
To become certified, veterinarians and veterinary staff are required to complete a comprehensive, 8-part educational course and exam. They also have to take continuing education to remain certified.
The Fear Free initiative was first developed by "America's Veterinarian," Dr. Marty Becker, and aims to "take the 'pet' out of 'petrified'" and get pets back for veterinary visits by promoting considerate approach and gentle control techniques used in calming environments. He developed the program with the assistance of board-certified veterinary behaviorists, veterinary technician behavior specialists, board-certified veterinary anesthetists, well-known veterinary practice management experts, and boarded veterinary practitioners experienced in Fear Free methods.
These methods and protocols are intended to reduce or remove anxiety triggers, which creates an experience that is rewarding and safer for all involved including pets, their owners, and veterinary health care teams. Learn more at
www.fearfreepets.com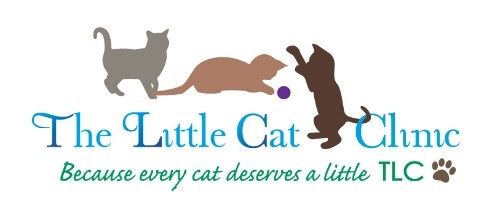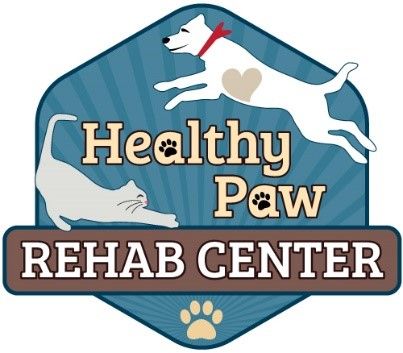 7750 University Ave
La Mesa, CA 91942
(619) 465-4600
EastridgeHosp.com
LittleCatClinic.com
HealthyPawRehab.com
Pet of the Month...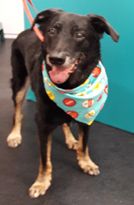 This Month's Pet of the Month is Raven Stippel. Raven is a sweet 12 year old, Shepherd mix who came to us last month in a bit of trouble. He had been having lameness and arthritis for some time, but then one day he unexpectedly went down. He could not support his own weight and his owners had to use a towel to lift him and help him walk. It appeared that he may have had a knee injury, and due to his age, surgery would have been out of the question.
So, we were all a little nervous that this could be the end.
However, no one wanted to give up hope, so we decided to try the laser on him…and lo and behold…that night he improved. Now laser in itself did not cure his knee injury, but it has been reducing the inflammation and pain in his joints so he can stand and walk again!
We are so happy that the owners elected to get a laser package. We knew it was a little scary for them, especially since Raven does get nervous about coming to the hospital. But with a bandana spritzed with dog pheromones and a Kong toy filled with treats, Raven now loves his twice a week laser treatments.
Good job Raven! We are so happy for you! Do you have a pet with achy joints or know someone who does? It is amazing what laser or rehab treatments can do. Please call us for more information.
October Special of the month!!!
DOWNLOAD OUR APP AND GET YOUR FIRST LOYALTY STAMP FREE!!!
This month's special is FREE. Simply download the Eastridge Animal Hospital app from the Google Play Store or the Apple App Store to your phone or mobile device and show it to us during the month of October and you will receive your first loyalty stamp FREE!!! That is a $100 value simply for downloading an app!
(no cash value; only one offer per family (account)).
October's Special Staff Wiggle & Purr goes too….
ALL OF OUR TECHNICAL STAFF! October 16 – 22nd is National Veterinary Technician Week. Technicians are the unsung heros of the veterinary hospital. The next time you go to a human hospital, note how many staff members there are: nurses, physician assistants, phlebotomists, surgery assistants, radiology technicians, lab technicians, dental hygienists….the list goes on and on....and in a veterinary clinic, our technicians must do it all! We are so proud of Renee, Cheyenne, Janine, Christa, Corina & Lisa. They truly are the doctor's right hand, while providing love and support to your pet. So please join us in thanking them for all they do!
We Have an App!!!!
Yes, Eastridge Animal Hospital has its very own app available FREE through either the Google Play Store or the Apple App Store. Simply search: Eastridge AH.
On the app, you can request appointments, see upcoming reminders, or order food or prescription refills*. It also links to the ASPCA Poison Control and a Pet Health Library. Rather than searching the internet (with a lot of bad information) now you can go to the library to look up valid information from credible, veterinary authors.
Of course, if that hasn't convinced you yet, then consider our NEW loyalty program!!! It will only be available through the app! For every $100 spent during a visit, you earn a stamp. Once the stamps are filled – you receive $100 credit! There is no expiration, no renewals, and it is valid with our other cost saving programs. (So yes, you can receive you PARC card discount and then also earn a loyalty stamp on the rest)!
* Note: for the app to sync with our operating system, it uses your email address. Therefore in the app, if you create an account using the same email address that we have on file, then it will download your pet. If we do not have your email address, or if you have problems connecting, please contact us.
The Little Cat Clinic's Newsletter
Author:
Date:
2020-04-29
Choosing to take on a pet is a big decision, particularly if you haven't been a pet parent to that particular type of animal before. Perhaps this is your first pet whatsoever. If so, don't fret! Cats are a great addition to any home and family, and you will adapt to caring for them in no time at all. To help you get started, here are our top tips for welcoming your new cat into your home.